A place to rest your head whilst being surrounded by magnificent mountains and scenery.
Clean Modern Facilities
Hot showers, full kitchen & kids playground
Picture Perfect Views
See the most stunning views in New Zealand

On-Site Activities
We will be happy to assist with booking any activities
Get in Touch
Click to email us or
call 03 409 0401
Where is the Campground located?
Mrs Woolly's campground is part of The Headwaters group – a not-for-profit organisation and is very much part of the Glenorchy community. It is located in the heart of the Glenorchy township next to Mrs Woolly's General Store and a short walk to the lakefront and the lagoon boardwalk.
The campground is now open for the season.
Whether you are sleeping in a tent or a campervan, Mrs Woolly's Campground certainly provides one of the most stunning picture-perfect backdrops in New Zealand. And with self check in it could not be easier to book online,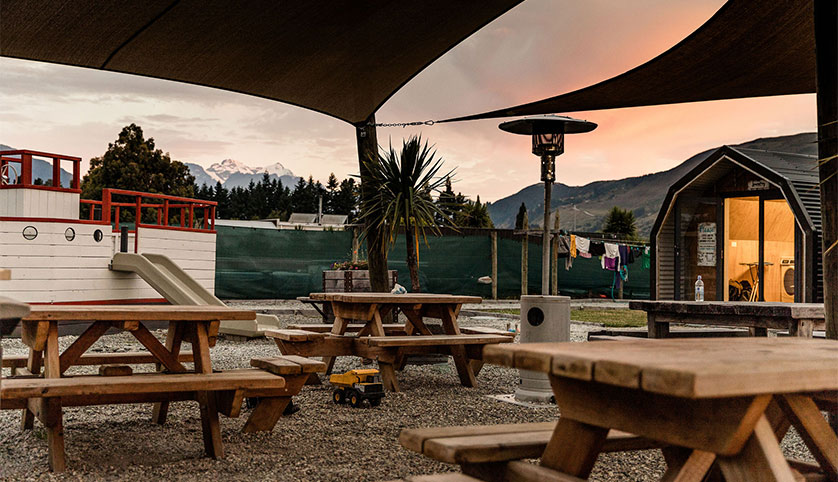 A stunning setting at the head of the lake and the heart of the mountains
The campsite has 33 unpowered sites, 9 tent-only sites and 5 powered sites for campervans and RV's. Simply book online and choose your site!
Your Questions. Answered.
Have some questions about your stay or about our basic rules?
See all the Captured Moments.
View our gallery page to see all the stunning views and backdrops that await you on your stay.
Dirk Heffter
All you need, magic surroundings, clean and all you need. The shop sticks all necessary supplies and more and the coffee is good, like all coffee in NZ.
M Juphoo
One of the most beautiful camp site, clean and spacious, with open kitchen, clean toilets and shower rooms. The staff in the general store are very nice. $2 coin shower for 7 min, there's no change machine if you arrive after their general store closed. Overall, it's a great camp site, can't beat the breathtaking view of Glenorchy.
Alice Moon-Star
Mrs Woolly's Campground is a good holiday park which sits near the beautiful hills of Glenorchy. It has reasonable campsites, good WiFi and a nice camp kitchen with oven tops, fridges, sinks, toaster and jug. Plenty of areas to sit and a kids playground too. The bathrooms are clean and modern.
Henry Battell-Wallace
Nice campground in a gorgeous location. Helpful & nice staff. Campsites easy to find and the facilities were good and clean. Thanks!
Astrid Mora
The very best campsite I've stayed at in New Zealand. The facilities are nice and clean, the camping area is all right, the mountains in the surroundings are so beautiful and you can eat and drink delicious coffee with cake in the Mrs. Woolly's Shop that is right next to